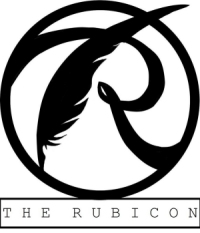 The Rubicon is a student literary journal published by the English Department of Troy University in collaboration with the Department of Art and Design on the Troy campus. The journal is run by students, and it publishes original works by Troy University students.

Click here to see the student-group constitution of The Rubicon.

Submissions
We use the following as general guidelines in terms of the submissions we accept. In some cases, exceptions to these rules are acceptable (just ask us!).

Submissions may include short stories, poems, literary essays, short plays, and nonfiction.
Please submit no more than three works at a time.
Prose submissions should not exceed 2,000 words.
Poetry submissions should be limited to around 50 lines.
All correspondence with authors is carried out via e-mail.
Please transmit all submissions in a Word (.doc or .docx) format.
Monetary compensation will not be provided for published works.
Submissions are accepted year round.
If you have any questions or need any assistance, e-mail the editorial staff at
grp-rubicon@troy.edu.

To submit material to The Rubicon, please complete the following form and upload your files:


Having trouble with the form or want to see a larger version? Try this link: Submission Form