Strategic Cooperation: Overcoming the Barriers of Global Anarchy (2013)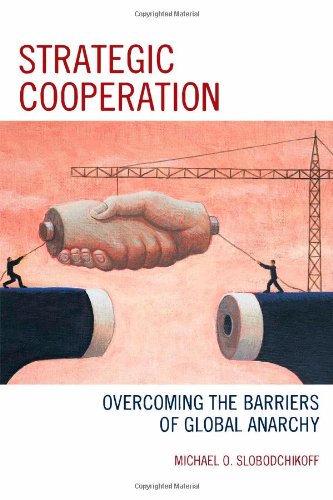 Power inequalities and mistrust have characterized many interstate relationships. Yet most international relations theories do not take into account power and mistrust when explaining cooperation. While some scholars argue that power relations inhibit cooperation between states, other scholars expect interstate cooperation regardless of the power relations and level of trust. Strategic Cooperation: Overcoming the Barriers of Global Anarchy argues that although states benefit from cooperation, they are also wary of the power relations between states, making cooperation difficult. Successful and cooperative bilateral relationships are formed between strong and weak states that are power asymmetric and have mistrust of one another, but they are built in such as way as to overcome the problem of power asymmetry and mistrust.
This book answers how and why states that are in power asymmetry and have mistrust of one another are able to build a cooperative bilateral relationship. It argues that states forge a relationship due to strategic needs such as economic or security needs. Slobodchikoff has developed a database composed of the whole population of bilateral treaties between Russia and each of the former Soviet republics, and examines all of these bilateral relationships. He finds that Russia indeed forged relationships with the former republics based on its strategic interests. However, despite Russia's strategic interests, it had to build a bilateral relationship that would address the issues of mistrust and power asymmetry between the states. To achieve this, Russia and the former Soviet republics created treaty networks, which served to legitimize as well as legalize the independent status of each of the former republics while also increasing the cost to Russia of violating any of the treaties. This book argues that strong treaty networks account for a more cooperative relationship between states, allowing both states to cooperate by alleviating the problems of mistrust and power asymmetry.
Editorial Reviews
Michael Slobodchikoff's innovative study illuminates important ways by which treaty construction and networks enable states to advance their foreign policy, economic, and security interests. With a focus on Russia's relations with former Soviet Union states such as Ukraine, Kazakhstan, and Belarus, this volume offers careful and timely analyses relevant to Putin period Eurasian politics. Relying on a combination of systematic analyses and focused case studies of inter-state treaty construction, this book enables readers to assess the differing opportunities and constraints that influence both a great power and less powerful states as they engage one another. Strategic Cooperation challenges the assumption that Russia is merely a coercive regional power that can unilaterally realize its ends without constraint. In fact, smaller countries have means by which they can safeguard, and even advance, their agendas, and in fact they are often quite energetic in doing so. Treaty networks, constructed over time, have structured and channeled the intersecting interests of both Russia and its less powerful (but diplomatically active) neighbors.
Slobodchikoff's volume shows the utility for all states, powerful and not, to engage in strategic cooperation that is more long-term and nuanced in its approach, with the real possibility for all states in a region to achieve many of their interconnected strategic goals. (John P. Willerton, Professor of Political Science, University of Arizona)
Anyone interested in international cooperation and post-Soviet Eurasia should read this book. The nested treaties approach is both original and productive for explaining how states expand their relations even when the resource of trust is not in place. (Andrei P. Tsygankov, San Francisco State University)
To purchase this book, click
here
Building Hegemonic Order Russia's Way: Order, Stability, and Predictability in the Post-Soviet Space (2014)
This book examines Russia's emergence after the collapse of the Soviet Union and its creation of a security architecture in the post-Soviet space. Many scholars argue that Russia is a coercive power in the region that forces states to act in only its own interests. While acknowledging Russia's power this author argues that it is not able to merely force states to behave as it wants them to. Instead, Russia must use bilateral and multilateral cooperation to develop a security architecture that provides order, stability and predictable behavior for both Russia as the hegemon and the weaker powers in the region. By building this security architecture, Russia and the other states in the post-Soviet space are better able to achieve their strategic goals and provide for their own security. To achieve this, weaker states are able to press for certain concessions from Russia regarding how to structure bilateral relations as well as multilateral organizations. While Western politicians have argued that Russia has tried to reestablish the Soviet Union through coercive means, the reality is much more of a nuanced interaction among all of the states in the region, which ensures state sovereignty while allowing the weaker states to pursue their own interests. Using network analysis, this author shows how the regional structural architecture of cooperation was built and indicate how Russia is able to achieve order. This book also shows that there is a lack of order where states have refused to cooperate in building the structural architecture, which has led to conflict and territorial disputes.
Editorial Reviews
This work offers a depiction of Russia's evolving role in the post-Soviet space grounded in Russian and Soviet history, as well as domestic Russian, regional, and geopolitical realities. Prof. Slobodchikoff wisely eschews the hyperbole that often surrounds treatments of Russian foreign policy under Vladimir Putin in favor of a more comprehensive look at the incentives and instruments of leverage on which Russia has depended to pursue hegemonic influence in its neighborhood. Overall, the author's careful examination of Soviet and post-Soviet bilateral treaty agreements, as well as multilateral treaty-based institutions, is a welcome addition to the literature on security in the post-Soviet space. (Matthew Rojanski, Director Kennan Institute, Wilson Center)
In his prescient analysis of foreign policy in the post-Soviet space, Michael Slobodchikoff examines how Russia reemerged as a regional hegemon after the collapse of the Soviet Union. This book carefully lays out how Russia employed a variety of bilateral and multilateral treaty mechanisms that enabled it to slowly reestablish its regional preeminence, when it could no longer rely on force alone. Building Hegemonic Order Russia's Way pulls off a unique feat in that it employs sophisticated research methods but is yet easily accessible to a wide audience. Using tools of network analysis embedded in deep contextual knowledge, Slobodchikoff speaks to scholars of international organization and security studies as well as to policymakers seeking to untangle the puzzle of how Russia has reemerged as an important international player. (Jennifer Murtazashvili, University of Pittsburgh)
This study offers a welcome antidote to numerous simple geopolitical studies of Russian international relations. Slobodchikoff argues that bilateral and multilateral treaties matter and can provide the basis for developing rules and networks in the post-Soviet regional order, even if Russia is still capable of exerting hegemonic power. This kind of systematic analysis provides a solid foundation for advanced students and researchers of this increasingly contentious and volatile part of the world. (Roy Allison, University of Oxford)
In this meticulously researched and thoughtful work, which he fits within the context of theories of global and regional order, Michael Slobodchikoff not only highlights the dangers of underestimating and neglecting Russia, but provides an extensive and nuanced assessment of Moscow's continuing attempts to create a viable security architecture in the post-Soviet space. Importantly, he points out that even though Russia is powerful within this space it cannot merely force states to behave as Moscow wishes them to but needs to use bilateral and multilateral cooperation to create a security architecture where all states, including the weaker powers, gain necessary benefits, including stability and order. This most helpful analysis, that explains Russia's needs and the rationale for certain policies, still leaves open the question though of what will happen following Russia's annexation of Crimea and the Kremlin's continued pressure on the rest of Ukraine. Will Russia overreach and fall victim to dangerous imperial delusions, or perhaps put more colloquially will it be a case where 'the appetite grows with eating'? (Aurel Braun, Harvard University)
To purchase this book, click
here
Cultural Imperialism and the Decline of the Liberal Order: Russian and Western Soft Power in Eastern Europe (2019)(With G. Doug Davis)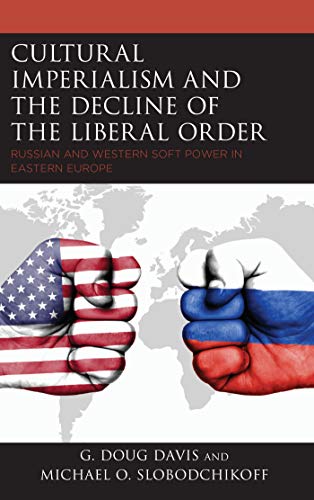 The end of the Cold War heralded in a new era for liberalism. Eastern European states adopted democracy and capitalism to gain acceptance by the West. Yet, a mere two decades later, liberalism was in crisis. The rise of illiberal democracies and nationalist movements in the second decade of the twenty-first century have left scholars baffled. How could this happen? Dr's. Davis and Slobodchikoff show that the decline of the liberal order lies within its own ideology: as it champions freedom, liberalism requires its adherents to give up their cultural traditions and adopt the global ethos to be legitimate. Through a systematic analysis of Western and Russian soft power in Poland and Serbia, the authors explain the decline of liberalism and the battle over the balance of power in Eastern Europe.
Editorial Reviews
A prescient analysis of the decline of the liberal order and the rise of nationalism in Eastern Europe. A must read for all scholars or international affairs enthusiasts at a time when nationalism and populism rapidly spread throughout both Eastern and Western Europe as well as North America and many other regions of the world. (Andrei V. Korobkov, Middle Tennessee State University)
Davis and Slobodchikoff analyze how the West and Russia globally promote their culture and ideas and how smaller Eastern European nations become dependent on outsiders at the expense of their own traditions. The authors argue the mutually reactive and zero-sum nature of the Russia-Western competition in which soft power becomes a hostage of the larger geopolitical struggle. A very troubling state of affairs. (Andrei P. Tsygankov, San Francisco State University)
In this ground-breaking book, Slobodchikoff and Davis examine the contending power strategies and contrasting hegemonic practices of Russia and the West. Firmly grounded in the theoretical literature, the authors provide rich empirical analysis of soft power and cultural conflicts drawing on the examples of Poland and Serbia. This hard-hitting and original study is essential reading for all those interested in the shifting balance of power in the international system today. (Richard Sakwa, University of Kent)
To purchase this book, click
here
The Challenge to NATO: Global Security and the Atlantic Alliance (Edited Volume) (2021)(co-edited with G. Doug Davis and Brandon Stewart)
The post–Cold War order established by the United States is at a crossroads: no longer is the liberal order and U.S. hegemonic power a given. The Challenge to NATO is a concise review of the North Atlantic Treaty Organization (NATO), its relationship with the United States, and its implications for global security.
Despite seeing its seventieth anniversary in 2019, NATO faces both external and internal threats to its continued survival. This volume examines the organization's past, its current regional operations, and future threats facing the Atlantic Alliance, with contributions by well-known academics, former central figures within NATO, and diplomats directly involved in NATO operations. In this volume, Michael O. Slobodchikoff, G. Doug Davis, and Brandon Stewart bring together differing perspectives and orientations to provide a complete understanding of the future of the Atlantic Alliance.
Editorial Reviews
"One of the keys to protecting the national security of the United States is our strong support for NATO. Since World War II, the Atlantic Alliance was established to make clear to Russia and any adversary that the U.S. will stand with our allies to defend our national security. There can be no ifs, ands, or buts to our commitment to NATO." - Leon E. Panetta, former secretary of defense
"NATO is the most important institution uniting the West, and today the alliance is threatened by nationalism and a growing inability to distinguish fact from fiction. Through contributions by diplomats, military leaders, and scholars, this important work focuses on NATO's current operations and future threats, showing the alliance's continued importance in the twenty-first century." - Gen. Michael V. Hayden, U.S. Air Force (Ret.), former director of the Central Intelligence Agency and the National Security Agency
"Drawing on their own scholarly backgrounds as well as expert academic and practitioner analysis, Slobodchikoff, Davis, and Stewart offer perspective on NATO today as well as chart its future course. Acknowledging that NATO remains the predominant institution binding the Atlantic community, the authors buttress their argument that despite severe challenges, NATO is no less important today than it was seven decades ago." - Brig. Gen. John Adams, U.S. Army (Ret.), former deputy U.S. military representative of the NATO Military Committee
"This volume creatively combines the talents and experience of American and European former senior officials, operational officers, and academics to survey NATO's past, present, and future. The mix of perspectives offers important insights into contemporary transatlantic security issues that should be of interest to international affairs scholars and students as well as practitioners. - Stanley R. Sloan, author of Defense of the West: Transatlantic Security from Truman to Trump
"This timely volume is an important contribution toward a better understanding of the core alliance of our post-World War II civilization. Superbly edited, its wide range of authors weave a compelling justification for just how important this thirty-nation treaty is for the stability for the transatlantic, and greater world. . . . It has a highly relevant focus on future opportunities, and challenges, including a dynamically changing regional and global security environment, and fast-mutating, disruptive hybrid activities and cyber-enabled technologies." - Brig. Gen. Peter Zwack, U.S. Army (Ret.), Wilson Center Global Fellow at the Kennan Institute
"A timely and useful analysis of the main issues confronting the alliance as it develops and adapts to an ever-evolving security environment. Benefiting from the input of many distinguished scholars and practitioners in the field of international security, this volume brings a valuable contribution to the process of in-depth strategic reflection that underpins NATO's endeavors to chart its course as the most powerful and successful military alliance of the twenty-first century." - Nicolae-Ionel Ciuca, minister of National Defense of Romania
"The world is again facing a series of critical and ongoing crises without clear solutions: the Middle East conflict, Syria, Ukraine, and Nagorno-Karabakh are but a few of the conflicts that will populate news cycles in the years to come. This book clearly demonstrates the role that NATO has played in mitigating global hostilities over the last decades. Yet more important, it thoughtfully and convincingly discusses the questions—both internal and external—that NATO must face in order to effectively meet the challenges of the coming era. I would highly recommend it not only to policy-makers and academics, but to anyone that wishes to better understand the role for multilateralism in our changing world." - Miomir Žužul, former minister of foreign affairs of Croatia and former ambassador of Croatia to the United Nations and the United States
To purchase this book, click
here